Breaking News
10 years ago accused Artfakes.dk Eric I. Spoutz of selling fake art works on eBay.com by famous international artists. Enquiries to the police in Detroit and eBay.com was rejected.
Now 10 years later has F.B.I. arrested him. Read the latest news on The Daily Beast written by Katie Zavadski. Also read about the case on www.kunstnyt.dk, mostly in Danish, sorry!
February 8, 2016
Preben Juul Madsen
journalist and writer
---

Artfakes.dk is still not updated except Breaking News above
8 February 2016
Yours sincerely Preben Juul Madsen
Editor of Artfakes.dk

Since artfakes.dk started well over 10 years ago, we're proud to say that the number of forgeries offered for sale mainly on eBay has been reduced with 80% - 90%. We also take the opportunity to thank our many visitors for all the letters and support we have received during this time. Our efforts to bringing an end to this nuisance have not been fruitless.
February 8, 2016

For the time being artfakes runs at half speed only or even less. Never the less we do encourage our many visitors to tell about our homepage. The more people who come to know about us the more likely we shall reach out to those individuals who have been betrayed buying fake art at eBay but who still do not know about it.
eBay – a thriving Market Place to make a bad bargain
»Today's« Art Forgery – (click here)
Shown to you sometimes, maybe once a week, maybe twice a month

May 19, 2009
An updated blog on the fake seller John Re with latest information about his ebay activity.

June 28, 2008
Artfakes.dk is back keeping a watchful eye on conmen selling fake art.
For the time being we cannot offer you a day-to-day service as we used to
but rather once a week or once a month but be sure that Artfakes.dk never sleeps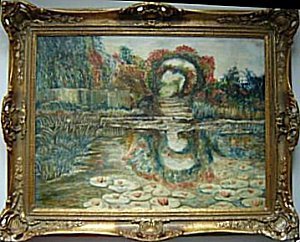 Would you like to pay $13,000,000.00 for this
Claude Monet falsification?
Take a look here
June 29: Latest news: The seller excluded from eBay



Watch the item before the seller was excluded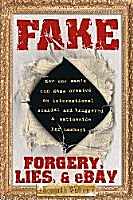 "In May 2000, I auctioned a painting on eBay for $135,858.
There was only one problem. It was fake".
Read more about Kenneth Walton's new fantastic book:
"Fake, Forgery, Lies & eBay" > http://kennethwalton
Take a look here at some of the most famous art forgeries
of today's art history offered for sale at the Internet auctions
eBay.com, lauritz.com, gauguin.dk and others
Please take a notice that earlier link might be dead.
Normally the pages on eBay are kept for 90 days,
but that doesn't hold for all of them!