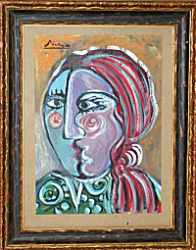 Watch this fake signed Picasso
On January 26th, 2006 he puts forward the impertinent suggestion towards innocent buyers to go and
invest their money in his many art forgeries, latest the ones shown above and below. Apart from
false paintings, watercolours, gouaches and drawings he also offers graphic works. The authenticity
of these works is somehow tricky to decide from a pure reconstruction put on the NET.
Therefore artfakes' piece of advice goes like this: Buy nothing from this potential art swindler, this
untrustworthy person, who should have been stopped by the eBay administration and the F.B.I.
a long time ago. And to you Mr. Spoutz we say: Waste no more of artfakes precious
time, you've caused enough damage so far.