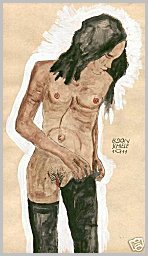 This painting is NOT a genuine work
by Egon Schiele.
Watch the sale


The seller of the picture to the left is galeriemk

The buyer is rose210249

What has lmmsla (Eric I. Spoutz) to say about rose210249: "Good buyer, promt payment, values costumer, highly recommended".

What has galeriemk to say about rose210249:
"Fast payment. Pleasant & promt buyer. Thank you very much".

All three sellers above are selling "Egon Schiele". But non of them are genuine works by the famous Austrian artist.

In March 2005 rose210249 bought a painting by "de Kooning" from galeriemk. This painting is not a genine work by de Kooning.

After www.artfakes.dk wrote about Immsla (Eric I. Spoutz), Detroit, Michigan, he has removed his Public profile. You cannot anymore see the buyers and the sellers comments. How can anyone trust that man?

Making Your Feedback Profile Public or Private
eBay strongly encourages you to keep your feedback profile public. In other words, everyone should be able to view the feedback other eBay users have left about you. A private profile means that others can't view your feedback.

Read more about Feedback


© www.artfakes.dk 2005