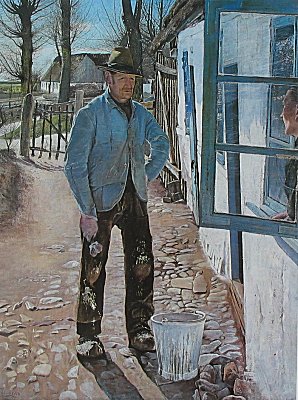 This is the original painting, still reseeding at Statens Museum for Kunst in Copenhagen.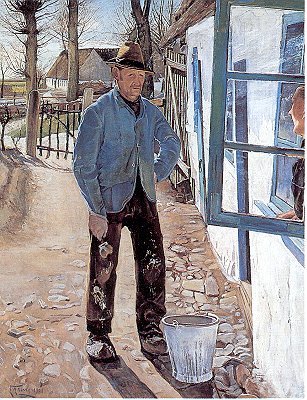 And here you can see the copy from
Sotheby's catalogue. A very good copy, indeed.
In the year 1980 the Danish auction house, Sagførernes Auktioner, sold a copy of one of L. A. Ring's most famous paintings with the title "Kalkemanden" for a small amount of money. It was painted in 1908. The original piece has been at Statens Museum for Kunst since 1939.

On March 28, 1990 the copy suddenly appeared at Sotheby's in London given it out to be the original work by L. A. Ring. In the meantime no one had heard that the leading museum in Denmark had sold the picture, so it appeared to be of some sensation. Sotheby's put prices between £ 7.000 and £ 10.000 at the piece. In the catalogue, lot number 144, it was represented in colour, bearing the text: Lauritz Andersen Ring (Danish 1853-1933). THE HOUSE PAINTER. Signed and dated 1905 1.1. [lower left], oil on canvas. 121 by 94 cm.; 47½ by 37 in.





The date in the catalogue was wrong, at the picture the year is stated as 1908, the same year the original painting was done. The size is close to the original, which is 122 by 96 cm., a difference which probably has to do with wrong measuring.





When the Danish press wrote about the case, Sotheby's withdrew the picture. Some years later, on December 1997, it suddenly showed up at the Danish auction house Ellekilde where it was sold for about $ 6.000, not taken to be the original work but as painted in the style of L. A. Ring.