NOT an original drawing by Pablo Picasso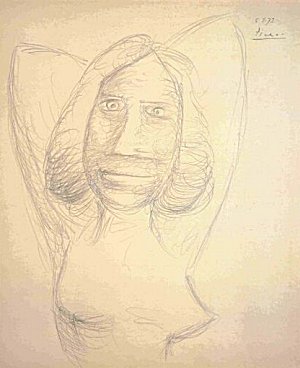 Watch the sale
The seller: Elinoff and Co Art and Jewelry, Telluride, Colorado, United States
Positive Feedback: 100%


price US $35,000.00
Picasso did not draw this miserable amateur drawing. Yes, we do in fact know that Mr. Douglas Cooper (a close friend of Picassoís) once said:

"Incoherent doodles done by a frenetic dotard in the anteroom of death".

This statement was aimed at Picassoís late works. But this drawing lies miles away from Picassoís style that even in his deathbed he couldnít possibly have done such a bad drawing.



And we, artfakes, never heard that other than Picassoís two children, his son Claude and his daughter Maya write out certificates. We believe itís a fake. Why the lack of the letterhead for instance? From where does this certificate come? From this one can read that the drawing has been exposed. Yes, in a kindergarten perhaps, but never on a Picasso exhibition thatís for sure.

From the certificate below one can read a signed statement that the drawing at the verso is an original Picasso drawing. But the enclosed drawing isnít necessarily the one offered for sale at eBay. And who is this person who signed that Isabella Picasso has signed the certificate? This requires that the one in question actually has seen Isabelle Picasso signing the certificate. But has he? Or has she? We, artfakes, consider the drawing as well as the certificate one big fraudulent fuss meant to impose upon less gifted buyers.

The seller:
Graphite on paper titled "Woman's Bust", signed and executed, Pablo Picasso, 06-04-72. This original Picasso drawing was given to Douglas Cooper (1911-1984), a well known art curator, critic, historian, and friend and collaborator of Picasso at his home, Chateau De Astille, in Provence just before a dispute that strained their relationship. This drawing also includes the original letter from Paloma Picasso attesting to the authenticity and referencing this piece from an exhibit as well as a recent, notarized photocertificate from Isabelle Picasso, his granddaughter and a member of the Picasso Administration. This drawing is guaranteed to be an original drawing by Pablo Ruiz Picasso and is not a copy or graphic. It is museum mounted and framed in hand wrapped linen with gold fillet and gold molding. If you've never purchased on E-Bay before or have any negative feedback, you must get our approval before you bid. All bidders over $15,000.00 are required by EBay to have a valid credit card on file. Please see bidding requirements for more information. You need to do this in advance or you may get skunked when you start bidding. Packaging and shipping will be $100.00 minimum, but insurance is included.